The other great Renaissance of black culture, influence, and glamour burst forth joyfully in what may seem an unlikely place—Pittsburgh, PA—from the 1920s through the 1950s.
Today black Pittsburgh is known as the setting for August Wilson's haunting plays about noble but doomed working-class strivers. But this community once had an impact on American history that rivaled the far larger black worlds of Harlem and Chicago. It published the most widely read black newspaper in the country, urging black voters to switch from the Republican to the Democratic Party and then rallying black support for World War II. It fielded two of the greatest baseball teams of the Negro Leagues and introduced Jackie Robinson to the Brooklyn Dodgers. Pittsburgh was the childhood home of jazz pioneers Billy Strayhorn, Billy Eckstine, Earl Hines, Mary Lou Williams, and Erroll Garner; Hall of Fame slugger Josh Gibson—and August Wilson himself. Some of the most glittering figures of the era were changed forever by the time they spent in the city, from Joe Louis and Satchel Paige to Duke Ellington and Lena Horne.
Mark Whitaker's Smoketown is a captivating portrait of this unsung community and a vital addition to the story of black America. It takes readers on a rousing, revelatory journey—and offers a timely reminder that Black History is not all bleak.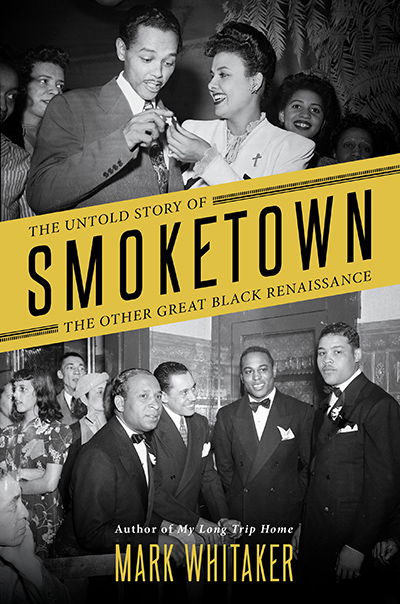 Kirkus Review (starred review)
"An expansive, prodigiously researched, and masterfully told history."
"The fascinating and never-before-told story of Pittsburgh's black renaissance—a vibrant and creative community that produced a great black newspaper, a great black baseball team, a great black industrial tycoon, a great black painter, a great black playwright, and some of the greatest black musical talent in America. Thank you, Mark Whitaker."

"Mark Whitaker says his remarkable mid-twentieth century Pittsburgh "was a black version of the story of early twentieth-century Vienna." Mr. Whitaker is so riveting a storyteller that the reader even wonders if Belle Epoque Vienna had the equivalent of a Billy Eckstine, Mary Lou Williams, Billy Strayhorn, Joe Louis, or an August Wilson."

"Who knew that Pittsburgh had an African American renaissance as vibrant as Harlem's and arguably more consequential? Mark Whitaker knew, and he rescues from unjust obscurity an American episode that continues to reverberate."

"That Smoketown is a joy to read shouldn't obscure the seriousness of its intentions. In vividly recreating the mid-twentieth-century heyday of black Pittsburgh, an almost magical locale for journalism, sports, music, politics, and business, Whitaker is also offering an alternate version of African-American history. This is a story of strength, pride, and achievement, where racism is never absent but also never more powerful than the strong will of his large, fascinating cast of characters."